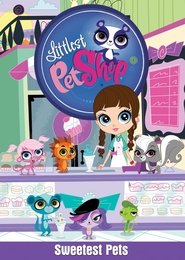 Season 1 2012 | 26 Episodes
Littlest Pet Shop - premiered on November 10, 2012
When Blythe Baxter moved into the city with her father, she never expected to move into the apartment above the Littlest Pet Shop. But an even bigger surprise awaited her. Blythe can talk to the pets... and they can talk back! Join Blythe as she embarks on wild adventures with her newest friends: Pepper, the hilarious skunk; Sunil, the magical ...
Season 2 2013 | 26 Episodes
Littlest Pet Shop - premiered on November 02, 2013
Blythe and her best friends are back for five more exciting adventures in the Littlest Pet Shop! Blythe starts a fashion trend when a bird's nest lands atop her head, Sunil becomes an internet phenomenon, Vinnie befriends some dancing lizards and the Pet Shop welcomes a juvenile alligator into their midst! All of these adventures and more unfold in ...