Season 1 2015 | 8 Episodes
Marvel's Agent Carter - premiered on January 06, 2015
Years before Agent Phil Coulson and his S.H.I.E.L.D. team swore to protect those who cannot protect themselves from threats they cannot conceive, there was Agent Peggy Carter, who pledged the same oath but lived in a different time, when women weren't recognized as being as smart or as tough as their male counterparts. But no ...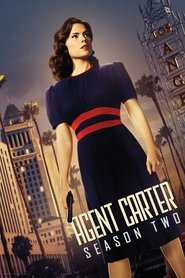 Season 2 2016 | 10 Episodes
Marvel's Agent Carter - premiered on January 19, 2016
Bigger, bolder and brighter than the white-hot lights of 1940s Hollywood, Marvel's Agent Carter blazes back for a second season packed with action, humour and intrigue! In the wake of World War II, top SSR (Strategic Scientific Reserve) agent Peggy Carter is dedicated to stopping new, Atomic Age threats.