Season 2 2018 | 8 Episodes
Goliath - premiered on June 15, 2018
In season two, Billy McBride returns to defend a 16-year-old boy accused of a grisly double homicide. Billy, Patty and team fervently build their case in the seedy underworld of LA, squaring off with a dirty cop, a ruthless drug lord and a prosecutor to prove the boy's innocence. As the true culprits come to light, the implications reach as ...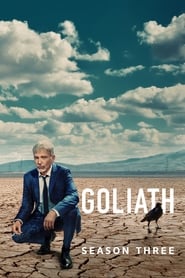 Season 3 2019 | 8 Episodes
Goliath - premiered on October 04, 2019
In season 3, the unexpected death of an old friend leads Billy McBride to take a case in the drought-stricken Central Valley where he comes face-to-face with a new Goliath: a billionaire rancher and his sister. As Billy and his team pursue the truth, old enemies and personal demons resurface, forcing him to confront his own mortality.