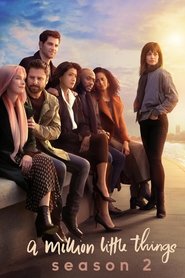 Season 2 2019 | 19 Episodes
A Million Little Things - premiered on September 26, 2019
Delilah must help her children move forward from their father's death, while hiding a huge secret of her own. Although she and Eddie are no longer having an affair, she is about to give birth to his baby. Eddie, trying to save his marriage, decides to tell his wife, Katherine, the truth. As the friends prepare to welcome Delilah'...
Season 3 2020 | 18 Episodes
A Million Little Things - premiered on November 19, 2020
Friendship isn't a big thing. It's a million little things. Our gang ended last season with many challenges in front of them. In season three, we'll see our group of friends once again lean on each other in ways that are both moving and aspirational—something we could all use right now.